2015 Honda Civic: the top choice among Canadians
March 27 2015,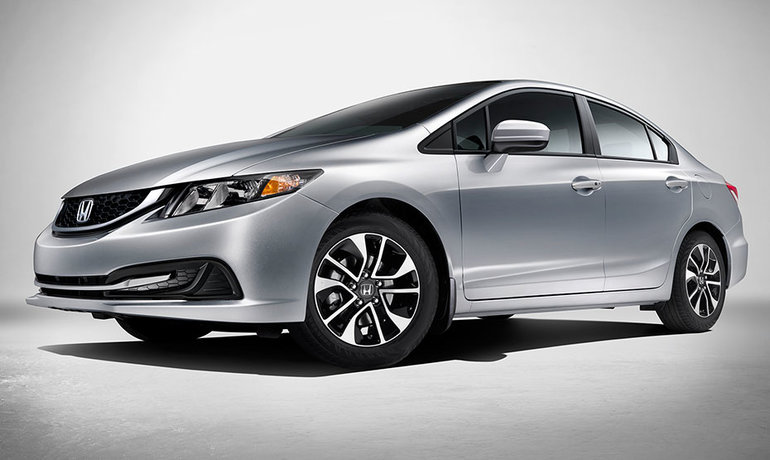 Ah the Honda Civic. When people first come to Canada, they must think everyone gets a Civic for free the car is so popular. In reality, you do have to pay for a Honda Civic, and many, many consumers have done just that in the past. As a matter of fact, the Honda Civic is the most popular car in Canada, and it has been like for the past 17 years. With a model that has received many progressive changes over the past few years, there is no reason to think it will not continue to be popular among compact vehicle buyers.
The 2015 Honda Civic doesn't get that many changes, but that was to be expected given the fact that the 2013 model received a visual redesign while the 2014 model got significant technical improvements, namely in the form of a new CVT automatic transmission that does wonders to reduced fuel consumption.
So, for 2015, buyers can choose between several versions of the Honda Civic. There is a hybrid variant, a sport variant (the Honda Civic SI), and two body styles; coupe and sedan. The base sedan starts at $ 15,750 and that is the model that we will focus on. Buyers can choose between four trims each offering more and more equipment. Every 2015 Honda Civic will get a host of safety features which make it one of the safest compact vehicles in its class. Although the base DX model is for those who simply want a car to get from point A to B, the LX version and up certainly have a lot to offer buyers who are looking for a vehicle offering plenty of features.
Indeed, the LX comes with heated front seats, Bluetooth with text message function, a rearview camera, cruise control, and air conditioning. The EX model ads a pushbutton start function with keyless entry, Honda's LaneWatch blind spot display system, automatic climate control, and Display Audio System. Finally, the Touring notably features leather seats and a navigation system.
Every 2015 Honda Civic not called SI or Hybrid get a 1.8-liter four-cylinder engine that delivers 143 horsepower and 129 lb-ft of torque. This engine has proven itself to be reliable and fuel-efficient many times before, and it certainly explains part of the success the Honda Civic has had recently. Thanks to the new CVT transmission, fuel economy numbers are set at 7.1 liters per 100 kilometers on average. A five-speed manual is also offered and comes standard.
To learn more about the 2015 Honda Civic, contact us today at Bruce Honda!