The All-New 2015 Chevrolet Colorado
August 13 2014, Justin Barker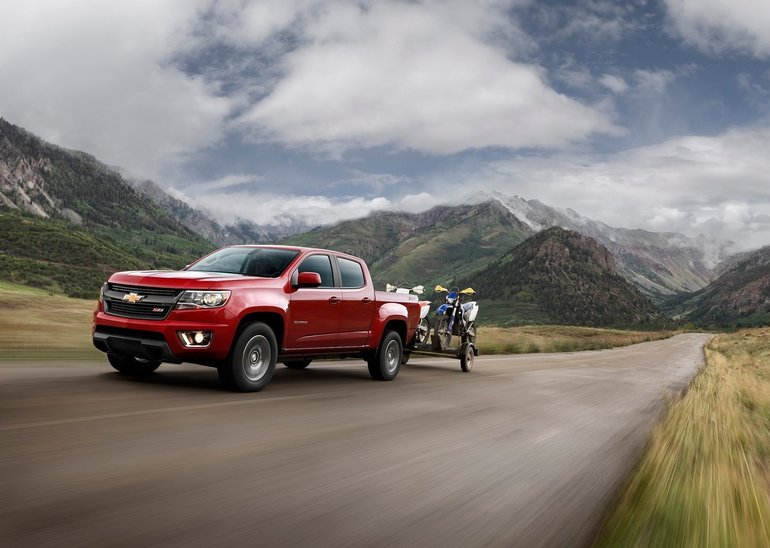 ''The 2015 Chevrolet Colorado is a truck that is meant to "have strong appeal for people who know they want a truck, but want one that is easier to manoeuvre in traffic and easier to park at work or at home''
Chevrolet is introducing an all-new model to its lineup, a vehicle that is said to be "designed, engineered and built to completely reinvent the mid-size pickup [segment]." With a bold personality, the 2015 Chevrolet Colorado will include new engines that offer more power and efficiency; all in a manageable size for buyers that are not keen on getting a full-size truck.
Canadians will have the opportunity to test the new 2015 Chevrolet Colorado when it arrives in dealerships this fall. The automaker's new model offers a commanding presence and a rugged style that is reminiscent of a full-size pickup, and sports a dramatic "power dome hood," in addition to Chevrolet's signature grille, and wrap-around headlights. The vehicle is also said to be 3 inches lower and 900 pounds lighter than the Silverado, due in part to a chassis that weighs less than the one found on the full-size truck.
In terms of power, the 2015 Colorado can be equipped with one of three new engines: a standard 2.5-litre 4-cylinder that generates 200 horsepower, a 3.6-litre V6 that will produce 305 hp and 269 lb-ft of torque for larger payloads, and finally a 2.8-litre turbo-diesel engine will join the lineup – the latter of which is a key highlight for Chevrolet. Currently, there is no other North American competitor in the segment that offers the option of a turbo-diesel engine.
Fuel-efficiency overall is also enhanced with a Dual Overhead Camshaft (DOHC) configuration, Variable Valve Timing (VVT) that is also meant to provide strong midrange torque, and direct-injection. A 6-speed manual transmission is standard with the base model, and four-wheel drive is available, depending on the model.
The 2015 Chevrolet Colorado is a truck that is meant to "have strong appeal for people who know they want a truck, but want one that is easier to manoeuvre in traffic and easier to park at work or at home," mentioned Tony Johnson, the Colorado's marketing manager.
As for the truck's maximum towing capacity, it is anticipated to be as much as 3,039 kg or 6,700 lb. An available 6-speed automatic transmission will also feature a button for Tow/Haul mode, offered on the 3.6-litre V6 versions, and serves to reduce the "upshifting and downshifting associated with hauling a big load." In addition, consumers can choose between extended-cab and crew-cab versions.
Versatility is an important factor as well, and the mid-size truck incorporates a two-tier box system that is meant to provide buyers with an upper and lower storage area. An available Cargo Management System also serves to divide the box into different sections for loading versatility, and consumers can opt for an EZ-Lift tailgate for more convenience.
Drivers can also look forward to the latest information, entertainment and connectivity features from Chevrolet's MyLinkradio system, displayed on an 8-inch touch-screen. With Bluetooth, a USB port, and the possibility of calling friends and listening to and sending text messages, the new Colorado appears to be well set-up for modern-day consumers. Siri Eyes Free is also available, among other features.
With the new 2015 Chevrolet Colorado, buyers can still enjoy the truck-like status, but without having to opt for a full-size pickup. The Colorado is a vehicle that offers versatility and hauling capabilities one can appreciate from a midsize truck, and new engines and modern features to enjoy. Contact your Bruce GM dealer for more details today!