2016 GMC Canyon: Diesel Ups the Cool Factor
March 11 2016,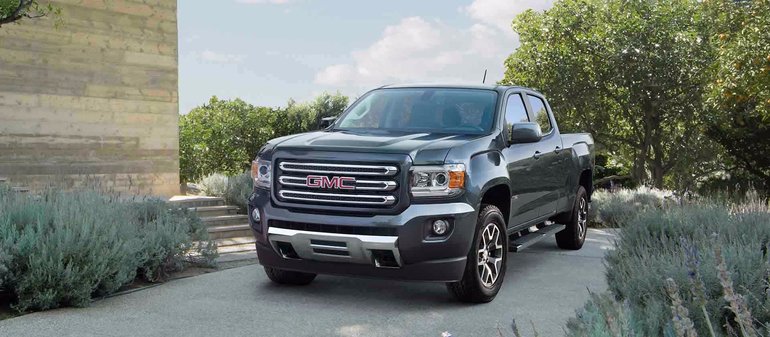 Offering a ride quality more akin to a sedan than a pickup, the GMC Canyon appeals to a large audience for a number of reasons.
Small pickups are making a stellar comeback in the auto industry. Don't be fooled by their more compact size, either; just because they're small doesn't mean they're not as capable as their bigger brethren. At the head of this more compact pack sits, undoubtedly, the 2016 GMC Canyon. This condensed work truck offers up style, amenities, ample capabilities, and some great engine and bed combinations. A full-size pickup isn't always the answer, so if it's a smaller vehicle you're after, then you'll definitely want to take a closer look at the GMC Canyon.
Small Size, Huge Utility
A few short years ago, GMC made the glorious decision to bring the Canyon back into action, and since then the compact pickup has been taking the segment by storm. Small in size, but not at all in what it has to offer, the 2016 GMC Canyon is equipped to take on the very best in the segment, and win. For starters, the all-new and uber-rugged and masculine exterior makes a serious statement on the road or off the beaten path. Offering a ride quality more akin to a sedan than a pickup, the GMC Canyon appeals to a large audience for a number of reasons.
There are four Canyon models currently on offer to choose from: SL, Canyon, SLE, and SLT. All four models can be had (as standard) with a 2.5L DOHC 4-cylinder engine that produces 200 horsepower and 191 lb-ft of torque. There's also an available 3.6L V6 good for 305 horsepower and 269 lb-ft of torque. The 3.6L is optional on all Canyon models (except for the SL model). As an added bonus there's a 6-speed manual transmission available on the Canyon SL. If it's not the manual you're after, you'll find a 6-speed automatic matched to your engine choice. There is also a standard 2-speed transfer case with electronic control (available on all but the SL).
What's most interesting about the 2016 GMC Canyon has to be the fact that for the first time this small pickup truck (only SLE and SLT models) is being offered with an all-new Duramax 2.8L I-4 turbo diesel engine with 181 horsepower and 369 lb-ft of torque.
All-Terrain Attitude
If it's off-road exploration you're into, then the 2016 GMC Canyon also has an available all-terrain package that includes Z71 off-road suspension, hill-descent control, all-terrain tires, transfer case shield (4WD only), and an auto-locking differential (2WD only).
One of a pickup's best and most used features is of course its bed, and the Canyon has some great cab/bed combinations to choose from. The 2016 GMC Canyon is available with a 5'2" or 6'2" Crew Cab box. There is also an available extended cab that features a 6'2" box. Crew Cab offers available seating for five, and that drops to four with the extended cab.
To find out more about the new 2016 GMC Canyon, especially the brand new diesel model, head down to your local Bruce Chevrolet Buick GMC Digby dealer today to speak to one of our experts. And don't forget to book a test drive, too.