2016 Chevrolet Cruze: Cruisin' Along
August 24 2015,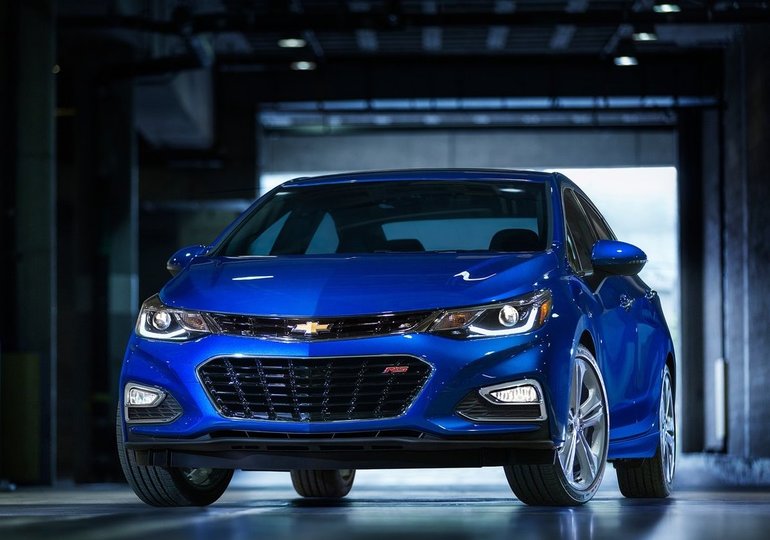 With a drive that's both enjoyable and efficient, the Cruze really is the ideal compact car for the busy urbanite.
Chevrolet recently unveiled the brand new generation of the Chevrolet Cruze. Slated to arrive as a 2016 model later this year, the Cruze will offer a range of new engines and a new design. That said, the 2015 Chevrolet Cruze is still available, and it certainly has a lot to offer.
The Compact Car Meant for You
If it's a fuel efficient, good looking, and well-equipped compact car you're looking for, then look no further than the 2016 Chevy Cruze. With multiple engine options (one being a diesel), plus a host of options and accessories, the Cruze truly is the all-around ideal compact car.
The most prominent feature on the 2016 Chevy Cruze is its front grille: dominant and masculine, the Cruze wears its bowtie with pride and sophistication. Strong lines give this compact a grown-up look that's a real head-turner on the street. Tasteful chrome accents adorn the outside, and the overall look of the Chevy Cruze is one of class.
Inside, that same classiness continues with comfortable seats and so much space you might not know what to do with it. Soft-touch materials are used throughout in a two-tone combination, which you get to choose, and the rear features a 60/40 split for easy transport of all your goods, that is, if the 425-litre trunk isn't large enough. With a triple-sealed windshield, the Cruze also boasts an uber quiet interior, as well.
The 2016 Chevrolet Cruze Packs a Punch on the Inside
Now, about those engine choices mentioned above: the 2016 Chevrolet Cruze can be had with a 1.4L ECOTEC with 138 horsepower and 148 lb-ft of torque or a 1.8L ECOTEC with the same number of ponies and fewer torques with125 lb-ft. Then there's the fabulous and oh-so fuel-efficient 2.0L Turbo Diesel mill that produces 151 horsepower and 264 lb-ft of torque.
There is a 6-speed manual available, otherwise it's a 6-speed automatic. There's also a 6-speed manual with an ECO specific triple overdrive gearset that's the only option on the Chevy Cruze ECO model.
The 2016 Chevrolet Cruze offers up superior interior space for a compact car, lots of amenities such as available ChevroletMyLink, OnStar with 4G LTE Wi-Fi hotspot capability (standard across the lineup), USB ports, satellite radio, Bluetooth, and an available 9-speaker Pioneer audio system.
With a drive that's both enjoyable and efficient, the Cruze really is the ideal compact car for the busy urbanite. To find out more about this fantastic car , head down to Bruce GM today to speak to our experts and find out more. And don't forget to book a test drive, as well.