2015 Honda CR-V: worth discovering
January 26 2015, Justin Barker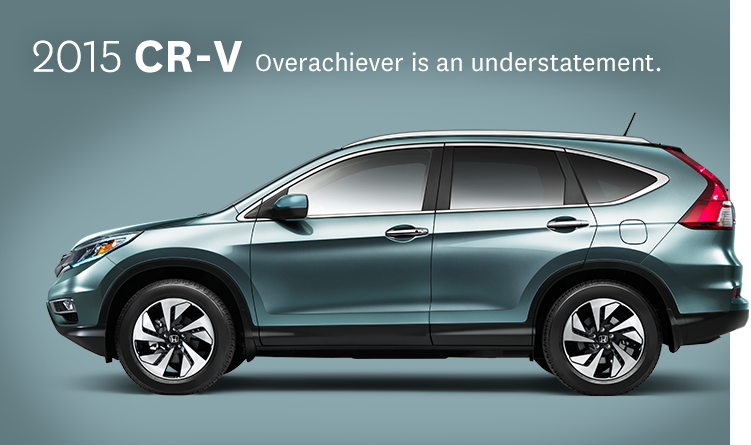 On the market since last September, the new 2015 Honda CR-V offers significant improvements over the previous generation while still maintaining the characteristics that have allowed Honda's compact sport utility vehicle to become one of the most popular vehicles in its class.
The new CR-V gets a host of improvements including the addition of Earth Dreams Technology, a new continuously variable automatic transmission, and a new group of security technologies. In short, the 2015 Honda CR-V, while not necessarily a new generation, offers many new features compared to the 2014 model.
The new CR-V benefits from a redesign that keeps the SUV's overall style, but also enables others on the road to recognize it instantly. The front end benefits from a redesigned grille and larger headlights which are now surrounded by LEDs. Inside, the new CR-V is still very spacious and can accommodate a log of luggage in the back. A new center console is also featured.
Under the hood, we find a four-cylinder, 2.4-liter engine that still offers 185 horsepower. That being said, torque increases by 11% and is now set at 181 lb-ft. This should allow the 2015 CR-V to offer better performance when accelerating or passing. The CVT replaces the 5-speed automatic transmission fitted to the previous generation of the model and, as was the case with the 2014 CR-V, front-wheel drive is standard, while AWD is optional on the LX version and standard on all other versions. Towing capacity has not changed and remains at 680 kg which is enough for the needs of the majority of consumers.
The Honda 2015 Honda CR-V also receives an upgraded suspension which should allow it to behave more like a car while being more aggressive when the road starts to turn. Handling is also more precise.
The addition of the CVT transmission, among other elements, allows the 2015 Honda CR-V to offer better fuel consumption. Equipped with front-wheel drive, the 2015 CR-V's fuel consumption is 8.6 liters per 100 kilometers in the city and 6.9 liters per 100 kilometers on the highway. With AWD, the anticipated average consumption of the CR-Vis 9.1 liters per 100 kilometers in the city and 7.2 liters per 100 kilometers on the highway.
The 2015 Honda CR-V is also the first to benefit from Honda Sensing, a group of driver-assistance technologies that includes elements such as an automatic braking system that prevents collisions, a system that keeps the vehicle in its lane, LaneWatch, adaptive cruise control and a lane departure warning system.
More powerful, safer and more fuel-efficient, the 2015 Honda CR-V is a real improvement compared to the 2014. Learn more today at Bruce Honda.